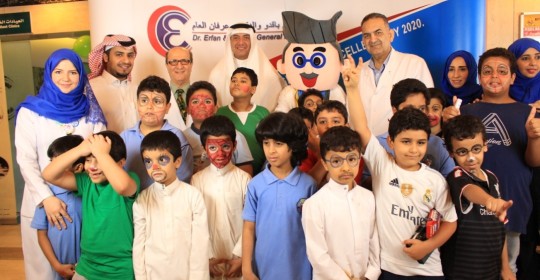 Dr. Hani Al-Amin Consultant and the chief of the Psychiatry Department confirmed that Dr. Erfan and Bagedo General Hospital is always keen on periodic seminars. On Wednesday and Thursday, 2-3 November 2016, the Health Education Department in cooperation with the Psychiatry Department organized a seminar about The International Day of Psychiatry to clarify the importance of psychiatry treatment and curing the psychiatric disease stigma. On Wednesday, educational lectures were given by Psychiatry doctors. Dr. Nahla Atta "Psychiatry consultant" (children and adults) talked about children's and adults' depression. After that, Dr. Sherif Azzam"psychology consultant" explained in details the disease of Attention-Deficit/Hyperactivity Disorder "ADHD". Finally, Dr. Wael Ibrahim "Psychiatry consultant" talked about the patient with"Schizophrenia" and the impact on his family and self.
On Thursday, activities for children organized by Miss Magda al-Amoudi"psychology specialist" welcomed the attendance of the following schools: ( Bait Al-Tafl School, Al-Sodfa Al-Maknona School, Al-Alfiya School, King fahdSchhol, Alamorya School, al-Akik School, Doma al-Jondol School, Disabled Children's Association, Outstanding baby center, badgish center, semsem center, Thought Development Center
All visitors and the participants expressed their admiration for the activities that have been offered to children.
Prepared by:
Public Relations Department