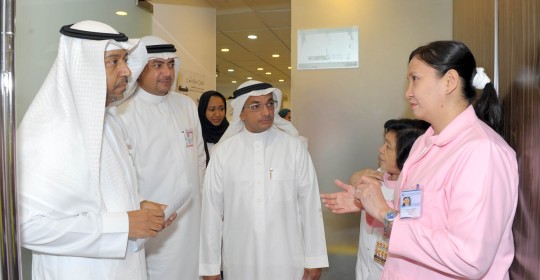 "Vaccinations are one of the most powerful ways to prevent diseases or reduce their symptoms in case of their existence.", says Dr. Azza Khattab – The Head of Infection Control Department in Dr. Erfan and Bagedo General Hospital in Jeddah, Saudi Arabia. She explains further that usually an epidemic spreads of a disease happens as a result of a change in the virus's genetic material like the flu which was the case of Swine Flu "H1N1", recommending taking the flu vaccination as a seasonal vaccination that should be taken annually.
This came during the grand opening of the Flu Vaccination Clinic for Adults in Dr. Erfan and Bagedo General Hospital in the presence of Dr. Khalid O. Bawaked, assistant director of Public Health Department in Jeddah, Dr. Samia Ahmed Mourad, Head of Technical Affairs in Infection Control Department and the Head of the Flu Program and Dr. Muhammed Bakhsh, Deputy Director of Infectious Disease Control Department, as well as many doctors specialised in this area and some members of the press and media.
Dr. Azza Khattab reviewed the main targeted groups, which must take the initiative to take these vaccines, including: employees of healthcare hospitals — It's highly important to start with them because they suffer from several diseases such as "Diabetes – Heart Problems – Chest Problems – Pressure – Immune Diseases" — all society groups older than 6 months and all pregnant women at any stage of pregnancy. She has also indicated that there are no restrictions to taking the vaccine except in cases of high temperature or a slightly runny nose … anyone with these previously mentioned symptoms should postpone the vaccination till their full recovery.