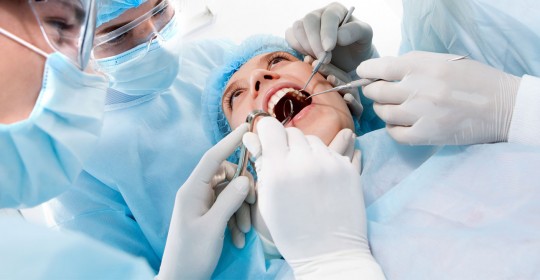 Newly expanded and upgraded services include: 
Pediatric dentistry .
Endodontics .
Periodontics .
Prosthodontics .
Orthodontics .
Conservative d entistry .
Dental hygiene .
Cosmetic dentistry .
Oral and maxillo facial surgery .
Dental implant .
Facilities available:
Digital Radiography with Intraoral Camera
lnjex Anesthesia System(

Needleless

) .
Cephalometric x-ray
Panoramic x-ray apparatus
High speed Kavo and belment dental units with fiberoptic hand pieces (

reduce span during teeth preparation

)
Dentistry For Children
The demands for pediatric dentistry increased in the previous century as a result of increased knowledge about the importance of keeping milky teeth in a good healthy condition throughout their lifetime until the normal dates of their shedding and replacement by the permanent teeth.
The new technologies and materials developed in the last few years of this century made the maintenance of children teeth in healthy condition and nice appearance not only an easy procedure but also a pleasant one for both the dentist and the children.
In the pediatric dental clinic of DR. ERFAN & BAGEDO HOSPITAL the followings are among many of the services provided:
Regular check up of children healthy teeth with providing the following procedures:

Topical fluoride application

Fissure sealant for primary and young permanent teeth

Periodic radiographic examination for erupting permanent teeth

Treatment of mild carious conditions using the most recent filling materials
Management of cases of nursing caries under local and general anesthesia
Restoration of fractured and carious anterior permanent teeth with the most recent tooth coloring materials
Correction of dental fluorosis
Maintaining the space of prematurely lost milky tooth
Preventing bad oral habits like thumb sucking
Management of teeth eruption problems like eruption cyst and pericoronitis
Reimplantation of avulsed permanent teeth and splinting .
Zirconia crowns for children .
Topical Flouride Application
Fluoride was proved to be the most effective chemical substance to reduce the occurrence of dental caries. By topical application of fluoride the smooth surfaces of the teeth become more resistant to dental caries.
Fissure Sealant
Fissure sealant is a polymer material used to close (seal) the fissures present in the masticating surfaces of primary and permanent teeth. By applying this material the masticating surfaces become self-cleansable and the chance of caries occurrence in these surfaces is reduced to the minimum.
Nursing Caries
Nursing caries is a type of dental caries affecting young children and results in massive destruction of their primary teeth specially the upper incisors. This type of caries results from feeding the child during night sleeping time using a bottle containing fluids to which sugar is added. It might also result from breast-feeding during night sleeping time.
The following pictures show the procedure of restoring affected primary incisors by nursing caries using the recent technology and materials for such treatment.
Oral Surgery services:
With the advance of modern life, still the scope of surgical service is expanding.
Still the increased incidence of congenital alterations, increased rate of dental diseases mainly caries, gum problems, impacted teeth and the relevant incidence of gum cysts and dentoalveolar infections. All this more add to the burden for surgical services.
Simple extraction of teeth.

Surgical removal of badly decayed and broken teeth.

Management of jaw cysts whether by inculcation or marsupiolization.

Apicectomy and apical curettage.

Management of intra oral and extra oral dental abscess and infection.

Management of Benign intra oral tumors.

Management of jaw fractures.