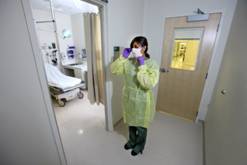 In bringing you the best patient services, the Anesthesia Department offers the most up to date techniques and equipments to all kinds of surgery:
Daily scientific meeting discussing critical cases
Painless delivery is one of the important services through using epidural catheter fixed in the back .
Continues medical education through Lectures monthly done discussing different subjects .
Regular lectures given by anesthesia technicians .
Anesthesia department always in contact with all medical companies to upgrade anesthesia equipments for the safety of patients .
Post Operative pain is one of the important services through

PCA

(pain control analgesia) technique .
Day case service is offered in our Hospital .
Fiber Optic Laryngoscope for difficult intubations .
Peripheral nerves block for orthopedic and vascular operations .
Thoracic epidural anesthesia for open heart surgery and thoracotomies .
Anesthesia for Electro convulsive therapy .
Also We are adopting latest ventilators and monitors such as:
DASH

4000

by General Electric

Narkomed Ventilators

BIS
American standard level of monitoring is provided to all patients during anesthesia: 5 leads ECG with ST segments monitoring, non invasive blood pressure monitoring, pulse oximetry, capnography, temperature measurements, tidal volume (Vt) and minute volume monitoring (Vm), and a gas analyzer is also included.
Invasive monitoring is also used for selective cases: Arterial Cannulation, Central Venous Pressure (CVP) monitoring, Pulmonary Artery Pressure (PAP) and Pulmonary Capillary Wedge Pressure (PCWP), Arterial Blood Gases (ABG's) and mixed venous (SvO2) measurements are available as well .
Our department is covering a total of eleven (11) theaters: six (6) theaters in General Operating Room, which consist of the following areas; General Surgery, including all laparoscopic procedures; Pediatric Surgery, Urology Surgery, Orthopedic Surgery, Plastic Surgery, Neurosurgery, Ophthalmic Surgery, and ENT Surgery. Two (2) Theaters is located in OB-Gyne Department for Ob-Gyne procedures. Two (2) Theaters for Cardio-vascular Surgery and In Vitro Fertilization procedures. Besides, we have a portable anesthesia ventilators and monitors for cases that needs anesthesia in different areas such as in MRI, X-Ray, CT Scan, Cath. Lab., Endoscopy and Dental Clinic. One (1) Theater for ESWL. We are processing for MRI compatible Anesthesia machine and monitor.
Highly qualified Anesthesia Consultants, Specialist and professionally trained Anesthesia Technicians are available around the clock. Our Department is updated on the latest trends of anesthetic agents, supplies, and techniques. Research, seminars, workshops, and other literary articles concerning anesthesia in the internet and media are always discussed for the benefit of the patient.
To sum up, we believed and committed to value the life and safety of every patient.